================================================================
Conestoga Schools
Elementary-Jr/Sr High
Activities... Announcements... & Support
----------------------------------------------------
:::::::::::::::::::::::::::::::::::::::::::::::::::::::::::::::::::::::::::::::::::::::::::::::::::
And so it begins. HWY 1 resurfacing. One-line highway. Pilot car. Delays. Be careful out here! (Truck has "It's Millin' Time" on the tank) Grind surface,
re-pave.
*************************************************************************************
2018-2019
WELCOME BACK CONESTOGA COUGARS!!!
HAVE AN AWESOME SCHOOL YEAR!!1
------------------------------------------------------------------------------------------------
What's happening in Nehawka
****************************************
Come on in.... Daily Specials... Great service... Awesome Food!
====================================================
50 years Family owned!!!
Not just a "bank"! This is the support of our community!
==============================================
God Bless our volunteers! Thank you for doing what you do to keep us safe!
=====================================================================
------------------------------------------------------------------------------------
Friday, September 14th
5-10 pm
Mark your calendars to come celebrate with us!

Back in January, we celebrated our tenth anniversary of being in business. Now it's time to party!

We will have live music with no cover charge and we will be offering drinks for ridiculously cheap prices (because we can't legally give it away, wink wink.)

AND...AND! If we manage to get up to 10,000 likes on Facebook, we will throw in FREE FOOD in the form of a luau style hog roast!

Thank you for being part of what we do! Now go out and tell your friends to like SVE on FB!
======================================================
----------------------------------------------------------------------------
We recently ranked the most unique bed and breakfasts across the nation and wanted to let you know that the Slattery Vintage Estates Bed and Breakfast ranked as the most unique bed and breakfast in Nebraska!
Our Unique Bed and Breakfast in
Nebraska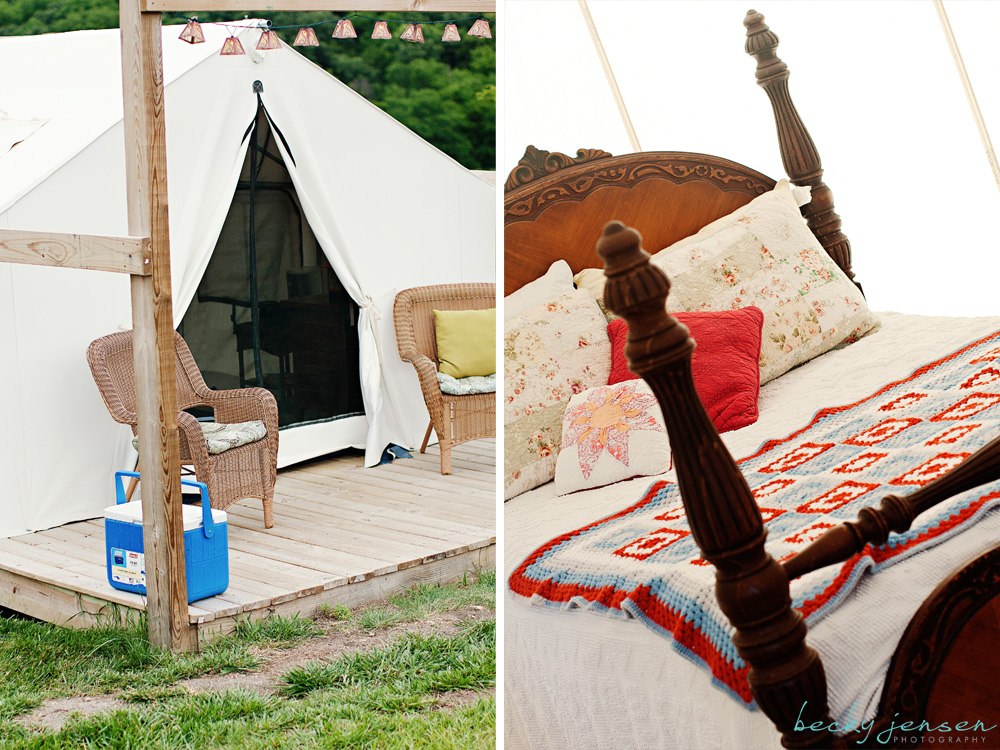 Spend the day touring a working vineyard and winery, sampling different vintages in the tasting room, enjoy a cheese plate and catch some live music in the courtyard at Slattery Vintage Estates in Nebraska. Don't bother calling an Uber when you're ready to call it quits- you can spend the night on the grounds in the estate's unique outdoor bed and breakfast. Slattery bills itself as the "original glamping destination in the Midwest." Each elevated tent is furnished with antiques in prairie-elegant fashion, and has a small porch strung with lights, for a charming effect in the evening. It's hard to picture a better destination for couples, and the company website's many photos of proposals made on the grounds attest to the romantic vibe. Each tent in the bed and breakfast has its own fire pit, and guests can purchase not only wine from the estate, but also foil dinners to cook over the fire or even s'mores. Pairing local wine with marshmallows by the campfire with your significant other? We're willing to bet you won't forget this unique glamping experience.
Rates: $60 to $90 per night
Location: Nehawka, Nebraska
At a Glance: a glamping bed and breakfast on a vineyard in Nebraska
Local Specials & Sales
~~~~~~~~~~~~~~~~
Shop here for all your Holiday needs!
===========================================
DJ's Dugout Sports Bar
=============================================================
What's happening out and about
**************************
--------------------------------------------------------------------------
=================================================================================
A big WELCOME to new owners, Spencer and Natalie Vampola, who opened the doors for customers to their new business, the
CROW'S NEST,
on July 2, 2018!
Located at the the former home of the Firehouse Bar and Grill, 104 E Main Street, Murray, NE, the kitchen will be open
Monday thru Saturday, 11 am - 8 pm
Friday and Saturday, 11 am - 9 pm.
Closed Sundays.
The menu will be limited for a short time, but we can testify that the chicken sandwich, cheeseburger and fries were great!
Keno will be coming, too, as soon as all the necessary red tape is completed and approved by the State.
It's always great when new business comes to our small towns and villages. Remember that they can only survive when they're patronized. We hope that when you stop in to welcome Spencer and Natalie to Murray that you'll wish them luck in their new venture.
For more information, call the Crow's Nest at 402-235-3300.
=======================================================
==============================================================
============================================================
Congratulations to all the current and former Old Avoca Schoolhouse Music Students who participated in the 20th Annual Tallgrass Prairie Fiddle Festival at the Homestead National Monument in Beatrice! They were all terrific, in spite of the extreme heat.

Bryan, Lilli, Dottie, and Ethne attended the free fiddle workshop in the morning, and Bryan also participated in the free harmonica workshop.

Caleb, Maddyn, Sophie, Taylor and Lilli shared some of their best performances in the Junior Division (for fiddlers who have been playing 5 years or less.

Lilli won the "Oldest Fiddler" award. (She is the youngest fiddler to win the Oldest Fiddler award.)

In the Senior Division (for fiddlers who have been playing 5 years or more), Cari-lynn won 3rd Place, Grace won 2nd Place, and Mindy won 1st Place.

Grace won the free fiddle/bow/case!

Next year's event is on Saturday, May 25, 1919!
============================================================================
================================================================
---------------------------------------------------------------------------------------------------------------
====================================================
Schoolhouse Performance Series
in the Old Avoca Schoolhouse
504 Garfield St., Avoca, Nebraska
presenting musical and theatrical performances for over 25 years
all shows are informal, and suitable for the whole family
This email address is being protected from spambots. You need JavaScript enabled to view it.
*********************************************************
******************************************************************************
FREE Garage Sale listings - How it works
You are free to browse garage sales, and/or register your own just click here ----> "Register Your Garage Sale"
Please, note, all submissions are approved by moderator and entered into calendar manually. No spam messages will appear on this website.
Thank you and visit again soon!
-----------------------------------------------------------------------------------------------------------
2018 Audition Dates Announced at the Lofte Theatre
Show Audition Dates Production Dates:

Guys On Ice - Sept. 10 & 11, Oct. 13-28
Nuncrackers - Oct. 22 & 23, Dec. 1-16
***************************
September 1 - Steve Jensen & Friends
September 15 - Larry Hanson & Friends
September 29 - Fred Larson &Friends
October 13 - FREE ADMISSION! CCMT Anniversary Show!
October 27 - Frank Bigelow & Friends
November 10 - Warren Brewer & Friends
November 24 - Josh Krohn & Dirty River Ramblers
December 8 - Christmas Show,
(Young musicians, up to 16 years old will be entertaining!)
** 7 PM, MONDAY, December 31, New Year's Eve Party!
==========================================================
===================================================
.
============================================================
----------------------------------------------------------------------
The Sarpy/Cass Health Department offers free transportation assistance to women with a mammogram appointment. The service includes home pick up, hospital/clinic drop off, and return home drop off. Eligibility includes women aged 40-75 years living in Sarpy or Cass counties. Please call the Health Department at 402-537-6968for more information.
----------------------------------------------------------------------
>>>>>>>>>>>>>>>>>>>>><<<<<<<<<<<<<<<<<<<<<
Job Opportunities
`````````````````````````````````
-------------------------------------------------------
LOUISVILLE CARE COMMUNITY is looking for a Full Time/Part Time C.N.A for evenings and nights. Call 402 5th Street in Louisville or find us on Facebook/Twitter, or apply at www.louisvillecarecenter.com
----------------------------------------------------
>>>>>>>>>>>>>>>>>>>>><<<<<<<<<<<<<<<<<<<<<
Recipe of the week...
Cream Cheese-Stuffed Pumpkin Dinner Rolls
These adorable pumpkin dinner rolls are semi-sweet and filled with rich cream cheese.
Cream Cheese-Stuffed Pumpkin Dinner Rolls
Ingredients
1 envelope active dry yeast

1/2 cup whole milk, scalded and allowed to cool to 110 degrees

1 teaspoon granulated sugar

1/3 cup brown sugar

4 tablespoons butter, softened

1 1/2 teaspoons kosher salt

2 teaspoons pumpkin pie spice
2 eggs

1 cup pumpkin puree

4 cups all-purpose flour

8 ounces cream cheese, cut into 1/2-ounce blocks and chilled

20 pecan halves, sliced into thirds vertically

1/3 cup butter, melted
Instructions
In a small bowl, place yeast, 110-degree milk and granulated sugar. Allow the yeast to bloom for about 10 minutes until frothy.

In the bowl of a stand mixer, add yeast, brown sugar, butter, salt, spices, eggs, pumpkin puree and flour. Mix with the paddle attachment until well combined. Switch to the dough hook and knead dough for about 8 to 10 minutes, until it is smooth and soft.

Place the dough in a greased bowl, cover it with linen and allow it to rest for about an hour, or until it has doubled in size.

Divide the dough into 16 pieces. Fill each dough ball with a cube of cream cheese. Wrap each dough ball in kitchen twine, wrapping the twine around the dough ball to create a pumpkin shape. (Take care not to wrap the dough too tightly because it will become larger when it proofs and bakes.) Cover the pumpkin-shaped dough balls loosely and set them aside to proof for between 1 and 1 1/2 hours, or until the dough is puffy and has doubled in size. Create an indentation in the top of each pumpkin where the pecan stem will sit after the rolls have baked.

Preheat oven to 350 degrees. Bake the rolls for 20 to 25 minutes. Remove from oven when baked through and golden brown; brush with melted butter. Allow rolls to cool for a few minutes, then remove the twine and place a pecan stem on top of each. Serve warm.
-----------------------------------------------------------------------
On the personal side.....
Never Forget!
On a crisp Tuesday morning, with the sun shining bright,
Who could know that we soon would behold such a sight?
All our ears heard the rumble, all our eyes in a stare,
At the vision of horror, so high up in the air.
Could this be just a mishap, just a tragic mistake?
One could actually feel, the very ground shake.
Clear the streets! Step aside! The police must get through.
And the fire trucks wailing fully loaded with crews.
Then to everyone's utter amazement and shock,
Yet another explodes, just past 9 o'clock.
People fled, women cried, thousands ran for their lives.
How could any come through this, how could any survive?
And the "Bravest" and "Finest" charged to save those in need.
We would soon know their valor, as they honored their creeds.
Then when none of us felt it could get any worse
The first tower succumbed and came crashing to earth.
Thousands glued to the tube, disbelief in their hearts
As the second gave way, then it just fell apart!
Those poor souls and their loved ones and their rescuers, too!
To our utter dismay there came even worse news.
The events that transpired on that day, what a pity.
Were not to take place just within New York City.
Our great Pentagon's structure was to suffer the hell
And the loss of so many who had served us so well.
And we soon all would learn of a Flight 93
All alone in the air where no cameras could see
They charged and they fought in a quest for control
Those brave souls gave their lives as they shouted, "Let's Roll".
Now the time since that day has flown by very fast
It's now been years ago since that very first blast.
We've exacted some justice, more to come I am sure
And no matter the trials, we will surely endure.
As a land and a people we're still strong and upright
But the battle's not over and our troops must still fight.
Let us honor the fallen both at home and abroad
And their service and courage we still duly applaud.
And we think of the loved ones living on every day
With the hurt and the ache that just won't go away.
So as we take pause, to remember and pray
Let us also take time to give thanks on this day.
May we always be brave, may our land be restored
Keep us safe in Your hands, we pray now, O Dear LORD.
-----------------------------------------------
Support Our Neighbors
Click to Read todays SpringfieldNebraska Newsletter
Click to Read todays PlattsmouthNebraska Newsletter
Click to Read todays WeepingWaterNebraska Newsletter
Click to Read todays GreenwoodNebraska Newsletter
Click to Read todays NehawkaNebraska Newsletter
Click to Read todays CedarCreekNebraska Newsletter
Click to Read todays AvocaNebraska Newsletter
Click to Read todays ElmwoodNebraska Newsletter
Click to Read todays MurdockNebraska Newsletter
Click to Read todays LouisvilleNebraska Newsletter
Click to Read todays EagleNebraska Newsletter
Click to Read todays MurrayNebraska Newsletter
Click to Read todays UnadillaNebraska Newsletter
Click to Read todays UnionNebraska Newsletter
Click to Read todays AlvoNebraska Newsletter
Click to Read todays ManleyNebraska Newsletter
========================================

2018 Community Sustaining Sponsor

2018 Community Sustaining Sponsor

2018 Community Sustaining Sponsor

2018 Community Sustaining Sponsor
2018 Community Sustaining Sponsor

2018 Community Sustaining Sponsor

2018 Community Sustaining Sponsor

2018 Community Sustaining Sponsor

2018 Community Sustaining Sponsor

2018 Community Sustaining Sponsor

2018 Community Sustaining Sponsor


2018 Community Sustaining Sponsor

2018 Community Sustaining Sponsor

2018 Community Sustaining Sponsor

2018 Community Sustaining Sponsor

2018 Community Sustaining Sponsor

2018 Community Sustaining Sponsor

2018 Community Sustaining Sponsor
2018 Community Sustaining Sponsor

2018 Community Sustaining Sponsor
2018 Community Sustaining Sponsor